---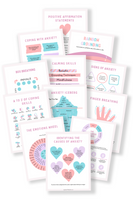 Anxiety Coping Skills Bundle (70 pages)
Regular price $6.00
Tax included.
Shipping
calculated at checkout.
Are you struggling with anxiety or need help managing it? The Anxiety Coping Skills Bundle is the answer! With 70 pages of useful anxiety coping skills and mental health therapy resources, this bundle provides a comprehensive understanding of the key principles necessary to cope effectively with anxiety. It includes activities, tools, coping techniques, and more to give you an effective framework for tackling any stressful situation.

Use these 8.5 x 11 pages in your planner, as wall art, or any other way to help you understand, cope and heal your anxiety.
This Anxiety Coping Skills Bundle includes:
Identifying Causes of Anxiety

Signs of Anxiety

Anxiety Behavior Changes

Symptoms of a Panic Attack

Breathing Exercises (12 pages)
Sitting With Uncomfortable Feelings
Anxiety Iceberg
Things I Can Control
Get Your Daily D.O.S.E.
Step Out Of Your Comfort Zone
Anxiety Coping Statements
Coping With Anxiety (2 pages)
A-Z Of Coping Skills
Coping Thoughts
Coping With A Panic Attack

Go Outside
Countdown To Calm
Today's Self-Care Check-In
Rainbow Grounding (2 pages)

Challenge Negative Thoughts 

How To Soothe Yourself
Warm Water Relaxation
Visualization
Spend Time With Your Pet
Journal
Progressive Muscle Relaxation
Positive Self Talk
Grounding Technique
Positive Affirmation Statements
Call A Friend
Using A Weighted Blanket
Hold An Object
Body Awareness
Self-Kindness
Connect With Other People
Categories
Calming Skills
How To Soothe Yourself
The Wellness Wheel
Calming Techniques
Growth Mindset
The Healthy Mind Platter
Mental Health Check In
Self-Care Cheat Sheet
Self-Care Ideas
Types of Self-Care
My Self-Care Routine
How To Be Kind To Yourself
Self-Care Menu
Self-Care Check-In
60 Ideas For Self-Care
The Emotions Wheel

And More!
File Size Includes:
Letter Size, 8.5 x 11 inches (70 pages)

PDF, Instant Download

This is an instant digital downloadable item. Nothing will be shipped.
These files are for personal use only.